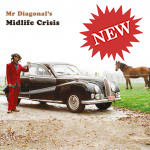 Mr Diagonal's Midlife Crisis by Mr Diagonal's Midlife CrisisMr Diagonal's Midlife Crisis (post-vintage pop) is a celebration of the 40-year itch: its doubts and delusions, mood-swings, sexual and existential crises. All set to groovy pop-music and delivered with the British stiff upper lip.
Available from 3 fairtrade sources!
by bank transfer/email
from homerecords.be
on bandcamp.com
You won't find it on itunes, deezer, spotify or any other evil streaming/download sites. If you do, please let me know!
*postage, please add:
Belgium €2,50
Rest of Europe €4,60
Japan and rest of world €5,30
Please pay to the following account Daniel Barbenel
IBAN BE46 0003 4381 0436
BIC BPOTBEB1 mentioning your order in the communication and send a confirmation to daniel.barbenel@gmail.com