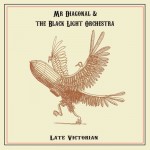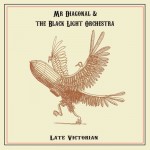 Late Victorian by Black Light OrchestraLate Victorian' is a telescopic end-of-the-pier fantasy album inspired by reading Darwin's 'Origin of Species' backwards. Features 'Prisoners of Neverland', an elegy to Michael Jackson (RIP) composed 3 months before his untimely demise. Also 'Hansior and Havior', a paradox in 6 acts accompanied by a consort of violas da gamba; and Great White Worm, the scariest case of monster-rock yet known to man.
Available from 3 fairtrade sources!
by bank transfer/email
from homerecords.be
on bandcamp.com
You won't find it on itunes, deezer, spotify or any other evil streaming/download sites. If you do, please let me know!
*postage, please add:
Belgium €2,50
Rest of Europe €4,60
Japan and rest of world €5,30
Please pay to the following account Daniel Barbenel
IBAN BE46 0003 4381 0436
BIC BPOTBEB1 mentioning your order in the communication and send a confirmation to daniel.barbenel@gmail.com