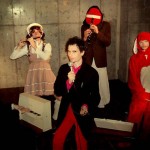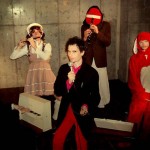 BBB by Black Light OrchestraBlack Light Orchestra's debut album. The name is BBB (with the third B back-to-front) HALF of the CD stock contain free stickers (you might be lucky).
The CD itself is in the form of a very handsome no-entry sign, which when removed reveals mr Diagonal in a compromising position. Very few copies left. Said to change hands at Japanese record auctions for up to $250,000
Available from 3 fairtrade sources!
by bank transfer/email
from homerecords.be
on bandcamp.com
You won't find it on itunes, deezer, spotify or any other evil streaming/download sites. If you do, please let me know!
*postage, please add:
Belgium €2,50
Rest of Europe €4,60
Japan and rest of world €5,30
Please pay to the following account Daniel Barbenel
IBAN BE46 0003 4381 0436
BIC BPOTBEB1 mentioning your order in the communication and send a confirmation to daniel.barbenel@gmail.com